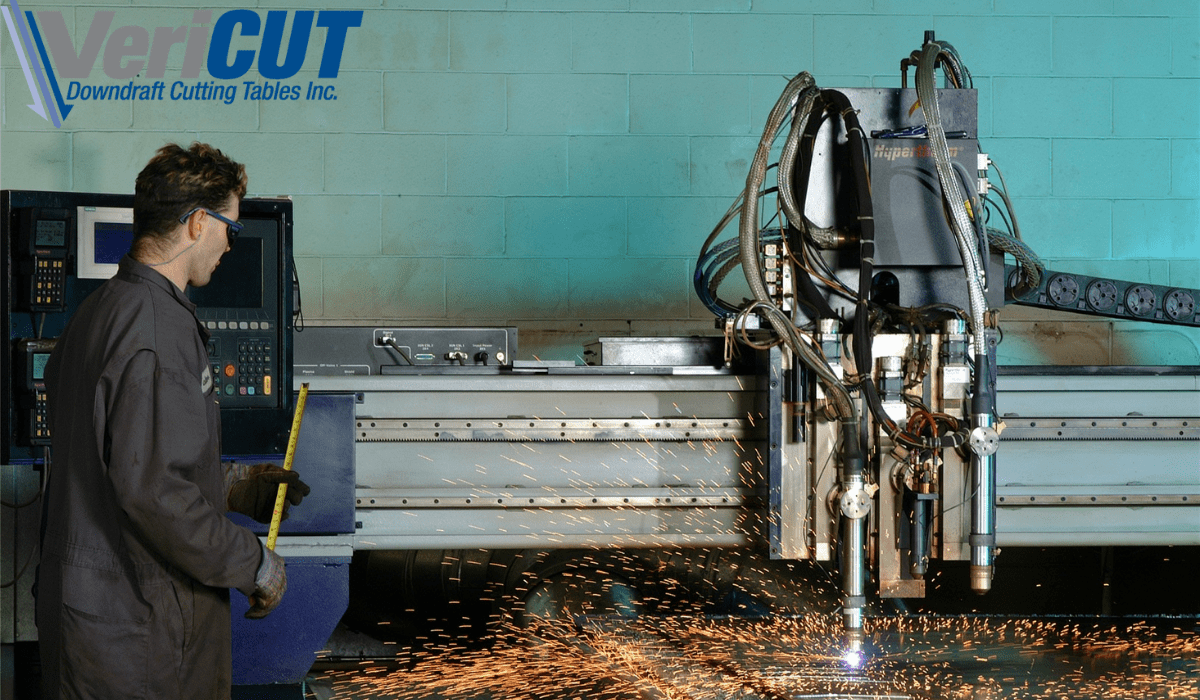 Downdraft tables give you the best of both worlds. You get a work surface designed specifically for your application and a dust collection technology that draws smoke, dirt, dust, and shavings away from the work area. This contaminated air is filtered before being sent back into the environment, reducing energy loss and making expensive exhaust systems unnecessary.
For years, VeriCUT Inc. has been a leading manufacturer of high-performing and energy-efficient downdraft tables for metal and woodworking applications. In this blog, we'll provide an overview of the various ways that these systems can improve your operation.
Create a Healthier and Safer Workplace
When you work with metal and wood, it can release pollutants into the atmosphere. When inhaled, fumes, fine particles, and smoke can all be dangerous to a worker's health and lead to both short and long-term illnesses and complications. Larger particles can even interfere with one's line of sight, increasing the risk of an accident.
Downdraft tables are designed to maintain the health and safety of your workforce, especially if you deal with welding, composites, plastics, and other applications that produce large amounts of toxic dust.  When you support a clean work environment, it sustains a healthy workforce and eliminates downtime or production delays due to illnesses.
VeriCUT industrial downdraft tables remove 99% of the smoke from the breathing zone of all employees working at the table. The high-efficiency smoke draw system pulls in contaminated air, preventing your shop from dangerous dust accumulation and preserving indoor air quality. 
Reduce Energy Waste
Most dust collectors run 24-7, even when the facility does not have round-the-clock operations. Studies have indicated that welding, cutting, and other operations that generate dust and smoke are seldom active more than 30% of the time, which means that anywhere between 70% and 80% of the electricity used to power these dust collection systems is wasted.
VeriCUT downdraft tables automatically scale back on shutdown, so that your operating expenses are not inflated by unnecessary energy usage. We understand that every facility and even every production line is different, so our systems have an onboard software that lets you indicate setback parameters. This degree and control ensures that you only pay for the energy that you need- no more.
One case study reviewed how the VeriCUT system could make a huge difference in a facility's yearly energy bill. A 13,000 cfm, 40hp downdraft table used 70% less energy than comparably-sized systems that did not scale back when not in use. The cost savings were as follows:
The VeriCUT system used $3,937 worth of energy that year while the other system used $13,124, representing a savings of $9,000.
The VeriCUT system used $1,848 worth of heat while the other used $6,160- a difference of over $4,300 per year.
In total, the VeriCUT technology had an annual operating cost of $5,785 while the other table incurred a cost of $19,284. This is money that could be used to invest in superior equipment that takes your facility to a whole new level.
Meet Legal Obligations
Across North America, there are federal as well as state/provincial and local regulations governing workplace safety. Depending on your operation, there may also be union rules in effect. In the U.S. the NFPA has mandated that all facilities undergo a dust hazard analysis and repeat the process every five years afterward.
By removing harmful smoke and preventing combustible dust build-up from your shop environment, you can meet your legal obligations to your employees and the environment, thereby reducing the risk of a stressful and time-consuming investigation or lawsuit. Your business will also be seen as a more desirable place to work.
VeriCUT- Your Trusted Downdraft Table Provider
At VeriCUT, we have been providing clients across Ontario with downdraft tables that support a healthier, more productive, and energy-efficient production line. We support a wide range of industries, from woodworking to metal fabrication and general manufacturing, and can design a system that meets the process-specific needs of your facility. To learn more about how we can contribute to the success of your business, please contact VeriCUT Inc.
November 16, 2020